Tough on Ice – Easy on Grass

Patented and University Proven Lawn Protector Formulation
High Performance Liquid Anti-Icer for vegetation sensitive areas

Magnesium Chloride Free
Tough on Ice – Easy on Grass

Patented and University Proven Lawn Protector Formulation

High Performance Liquid Anti-Icer for vegetation sensitive areas

Magnesium Chloride Free
 Reduce Costs / Reduce Labor:
Liquid anti-icers applied ahead of a storm, reduce overtime and after storm cleanup.WinterGreen® Liquid prevents the bonding of snow and ice to the pavement surface allowing easier removal with blade or shovel. WinterGreen® Liquid applied prior to a storm can reduce or eliminate after storm cleanup and granular deicer use, saving both material and labor costs.

Unmatched Green Performance:
Ossian created the green ice melter marketplace in 1997 with its WinterGreen® formulation. WinterGreen® Liquid is a wholly unique product that anti-ices with the performance of calcium chloride yet converts to a slow release nitrogen in the soil benefiting plant growth.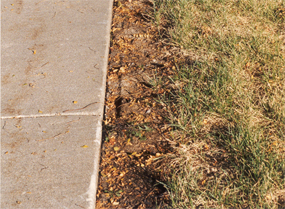 Typical ice melter runoff builds up salts in the soil causing vegetation damage along sidewalks, roads and parking lots. The result is unattractive for visitors and expensive to replace.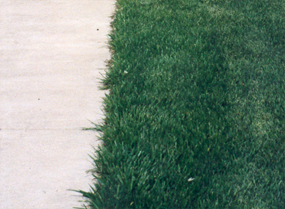 WinterGreen®'s patented formulation melts with the performance of calcium chloride but converts to a slow release nitrogen in its runoff, benefiting the grass and vegetation.
University Proven Safer on Vegetation:
The results of a two year study, by Iowa State University on the Effects of Common De-icing Chemicals on Turf Grass,* found Ossian's patented WinterGreen® formulation to not only be gentle on vegetation but it can actually have a greening effect. These results were backed up with a follow up study.
Safer for Concrete and Vegetation than Magnesium Chloride:
WinterGreen® Liquid will not harm concrete and vegetation when used according to label instructions. The product contains no magnesium chloride which has been shown in studies to chemically attack concrete. In the Iowa State University report WinterGreen's formulation was shown to far exceed the vegetation friendliness commonly claimed by magnesium chloride.*.
* Iowa State University, Department of Horticulture, The Effects of Common De-icing Chemicals on Turfgrass, 1996
Directions:
ANTI-ICING: On a cleared surface apply 1 gallon per 1000 square feet. Application rates may vary based on conditions. Apply 1 – 2 hours prior to snow fall. If snow is expected during the evening, product may be applied at dusk to aid in the removal of snow in the morning.
DE-ICING: Plow or shovel snow accumulation prior to applying product at a rate of 1 – 2 gallons per 1000 square feet. Applications rates vary depending on snow / ice depth and temperature conditions. In snow deeper than two(2) inches, all deicers are impractical.
DO NOT apply when the surface temperature is Below 10°F. At lower temperatures, apply TRIPLE MELT® dry ice melter. Liquid de-icers are not a replacement for granular deicers and should be used in conjunction.
Patented Performance:
WinterGreen® is protected by multiple U.S. Patents. Additional patents may be pending.
| TECHNICAL INFORMATION | |
| --- | --- |
| Principal Application | Anti-Icing prior to storm |
| Color | Green |
| Composition | Calcium Chloride |
| | Urea |
| Packages Available | 5gal / 250gal / 4500gal |
| Patents | Multiple |