Unbeatable Speed and Performance

Patented ISOTROL/2® accelerator
Lowest Utepic Freeze Point -60°F (-51°C)

Magnesium Chloride Free
Unbeatable Speed and Performance

Patented ISOTROL/2® accelerator

Lowest Utepic Freeze Point -60°F (-51°C)

Magnesium Chloride Free
Ice Melter Performance:
The faster an ice melter works, the less chance there is for a mishap to occur. That's why ICE FOE® contains the powerful melting accelerator ISOTROL/2®.

ICE FOE® has been shown in Strategic Highway Research Program testing, to exceed the melt value of calcium chloride, magnesium chloride, sodium chloride and blends of these products.
---
Ice melt comparisons measured in milliliters using the H-205.1 testing method set up by the SHRP (Strategic Highway Research Program). Ice melters were tested at 15°F for 20 minutes.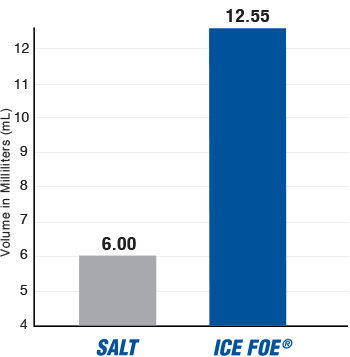 Long Lasting. No Residue:
ICE FOE® keeps on working long after ordinary ice melters have stopped and helps prevent refreezing. Used as directed, ICE FOE® dissolves rapidly, leaves no white powdery residue, and has little or no effect on concrete, sidewalks, roads, tires, floors or carpeting.
Safe for Concrete and Vegetation:
ICE FOE® will not harm concrete and vegetation when used according to label instruction. Incorporating liquid anti-icing practices with dry application rates is essential to reducing chloride and salt impacts on the environment.
Powered by a Patented Accelerator:

| TECHNICAL INFORMATION | |
| --- | --- |
| Lowest Utepic Freeze Point | -60°F (-51°C) |
| Color | White / Pink Pellet Mix |
| Common Pkg Weight | 70lbs (31.8 kg) |
| Packages Available | Drum / Carton / Pail |
| Patent | Isotrol/2® |