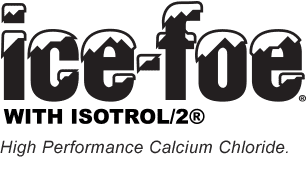 | | | |
| --- | --- | --- |
| PROBLEM: | | Low temperatures and a must for speed and melting performance. |
| SOLUTION: | | Ice-Foe with Isotrol/2® |
In melting test (SHRP-H-205.3), Ice-Foe with ISOTROL/2® exceeded melting performance of calcium chloride, sodium chloride, potassium chloride and any blends of these products.

Simply put, we know of no solid deicing chemical that can out perform Ice-Foe with Isotrol/2®.

Ice-Foe melts an average of three times more ice than competitive products...
in the first 15 minutes at temperatures between 0° and +25°F. Results are based on independent laboratory tests, in which Ice-Foe melted between 1.5 and 9.5 times more ice.

Ice-Foe with Isotrol/2® gives you an instant action, cost effective advantage.
Its unique combination of chemical components with it's patented Isotrol/2® formula acts to give you a clear walkway. Effective at the economical rate of 2 to 4 ounces per square yard.


No other ice melter delivers all these important Ice-Foe advantages:
Ossian Inc. has been developing and manufacturing high performance ice melters since 1974. Based in the heart
of the U.S. snowbelt, Ossian operates the most active private de-icing lab in the United States, working to reduce
our country's dependency on salt and pioneering alternative de-icing technology.
icemelt@ossian.com
563-324-3381